Utah One of the Leading States for Advanced Industries Employment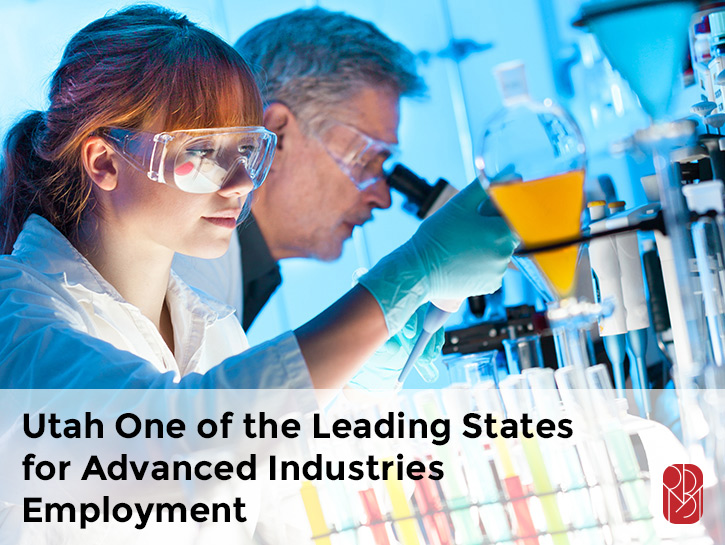 February 2015
A recently released report from the Brookings Institution entitled "America's Advanced Industries: What They Are, Where They Are, and Why They Matter" highlights the strength and diversity of Utah's economy. The report defines an industry as an "advanced industry" if it meets two criteria: 1) the industry spends heavily in research and development (R&D spending per worker in the 80th percentile or higher or more than $450 per worker); and 2) the industry employs workers with a high degree of STEM (science, technology, engineering, and math) knowledge above the national average of 21% of all workers. Using these criteria, the authors of the report identified 50 industries that invest heavily in research and development and employ highly skilled workers. These 50 industries include manufacturers, energy providers and service providers in a variety of industries, such as aerospace products and parts, motor vehicle-related manufacturing, computers and peripheral equipment, chemical products, energy industries, computer systems design, data processing and hosting, and software publishers. Many of these industries are developing "disruptive technologies" that are redefining both the workplace and our daily lives.
Overall, the State of Utah was one of only seven states where more than 10% of the workers are employed in advanced industries. And the Salt Lake City, Provo-Orem, and Ogden-Clearfield metropolitan areas were all ranked in the top 15 among large metropolitan areas with the highest percentage of advanced industries employment. While Utah's three largest metropolitan areas are among the leaders nationwide in advanced industries employment, the composition of that employment differs from region to region. Ogden-Clearfield's advanced industries employment was geared more towards manufacturing industries, with Ogden ranking as one of the five areas most specialized in advanced manufacturing industries. Conversely, Provo-Orem, with a large number of technology companies contributing to its reputation as the Silicon Slopes, is one of the five areas with the highest concentration of advanced services industries. The report also identified Provo-Orem as one the fastest growing areas in the advanced industries area. Finally, Salt Lake City had a more diversified industry base, reflecting a mix of both manufacturing and service industries.
The importance of these industries to Utah is evident in its impact on the Utah economy. While responsible for more than 10% of all jobs in the State of Utah, advanced industries account for more than 18% of the total output for the state, exceeding $24 billion in 2013. The advanced industries in Utah also indirectly support another 100,000 jobs in Utah, or more than 8% of Utah's total employment.
The Executive Summary and the Full Report, along with interactive data and support tables, are available at http://www.brookings.edu/research/reports2/2015/02/03-advanced-industries#/M10420. Summaries of employment, output, and growth for the State of Utah and the Salt Lake City, Provo-Orem, and Ogden-Clearfield metropolitan areas are attached.
PDF – Provo UT – Advanced Industries Analysis
PDF – Utah – Statewide Advanced Industries Analysis
PDF – SLC UT – Advanced Industries Analysis
PDF – Ogden, UT – Advanced Industries Analysis
Steven Bergman is a Shareholder and Attorney with the law firm of RBMN, specializing in business law, real estate law, and appeals.
https://www.richardsbrandt.com/wp-content/uploads/2015/02/Advanced-Industries-post.jpg
545
725
RBMN
https://www.richardsbrandt.com/wp-content/uploads/2021/08/logo.png
RBMN
2015-02-13 15:27:18
2021-11-03 15:14:30
Utah One of the Leading States for Advanced Industries Employment