UCC Article 9: What You Need to Know, Part 3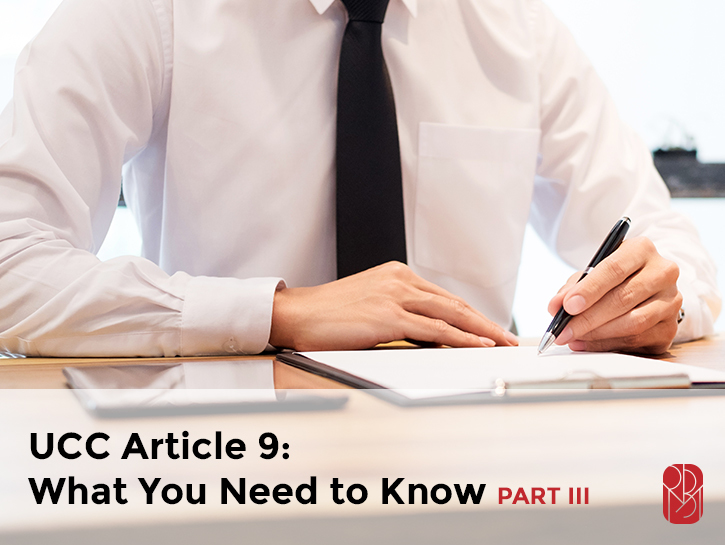 Clint M. Hanni
March 2018
Security Agreements – For Lenders
Security agreements lie at the heart of loan transactions. If you are a lender, the security agreement is the document that insures you will be repaid. Security agreements are most often stand-alone documents, but they don't have to be. Language creating a security interest can be embedded in any other agreement, such as a loan agreement, a purchase order, a promissory note or a deed of trust. The key to creating a security interest is including language whereby the debtor "grants a security interest" to the lender in named collateral. Beyond that, there are two elements of utmost importance in a security agreement that, surprisingly, are often overlooked.
First, the security agreement must indicate what the collateral is. There doesn't have to be an exhaustive description of each separate item of personal property of the debtor that constitutes collateral. It is enough to identify the category or type of collateral, such as equipment, inventory, accounts receivable, deposit accounts and the like. UCC Article 9 identifies the generally recognized types of personal property collateral in which a security interest can be taken. You should always consult a qualified lawyer to review any collateral description in a security agreement to confirm it is adequate (for the lender) and not overreaching (for the debtor).
A common pitfall is to identify the collateral by simply referencing "all assets" of the debtor or "all personal property" of the debtor. Many lenders have tried this, thinking that it will get them the most collateral, only to find out that UCC Article 9 specifically disqualifies this approach. Such lenders end up with no security interest, no collateral and a difficult path to repayment if the debtor becomes insolvent. To create an effective security interest, the collateral must be identified by specific type or category.
The second element of utmost importance is that the security agreement must be signed by the debtor. This is a simple matter, but often overlooked. An unsigned purchase order with embedded language about the creation of a security interest is not sufficient. The mere filing of a UCC financing statement (which, as a rule, is not a signed document) is not sufficient. Without the debtor's signature on a written (or electronic) security agreement, no security interest will be created.
As you can see, the requirements of a security agreement are complicated. Before providing a security agreement to a debtor, it's wise to have it reviewed by a competent attorney with UCC expertise.
Clint M. Hanni is Of Counsel to Richards Brandt Miller Nelson. He is a member of the Business Transactions & Corporate Governance, Banking and Finance Law, Business Bankruptcy and Creditor Rights, and Real Estate Transactions & Litigation practice groups.
https://www.richardsbrandt.com/wp-content/uploads/2018/03/UCC-Article-9-part3.jpg
545
725
RBMN
https://www.richardsbrandt.com/wp-content/uploads/2021/08/logo.png
RBMN
2018-04-04 11:43:30
2021-09-09 13:29:26
UCC Article 9: What You Need to Know, Part 3