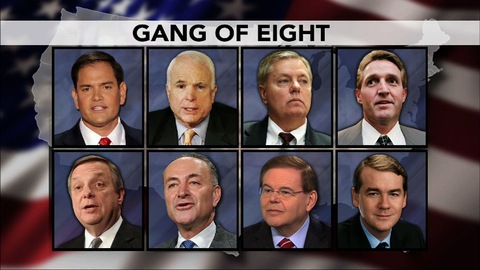 April 2013
After months of debate, negotiations and speculation, the «Gang of 8,» made up of eight Republican and Democratic senators charged with the task of composing an immigration reform bill, has released its much-anticipated proposal. On Wednesday, April 17, the 844-page bill (titled the «Border Security, Economic Opportunity and Immigration Modernization Act of 2013«) was filed in the Senate. The bill represents some significant compromises between the two major parties and reflects the changed political landscape surrounding immigration reform in the wake of last November's election.
Here is a brief overview of some of the key provisions of the bill:
Border Security
The Department of Homeland Security must create, fund and implement a border security and fence plan. Within 10 years of the bill's enactment, all employers in the United States must be using E-Verify. A visa exist system must be implemented at all international airports and seaports.
Jobs
The bill seeks to protect American workers from losing much-needed jobs to immigrants. The bill would not allow any work visas to be issued if the unemployment rate in a certain area is above 8.5 percent. Foreign students will get a «green card stapled to their diplomas.» The number of available H1-B visas will be nearly doubled. However, certain categories of family visas such as siblings and adult, married children of citizens will be eliminated.
The Guest Worker Program will be «modernized.» A new agricultural guest worker visa program will be established, which will allow some current undocumented agricultural workers to obtain legal status through an Agricultural Card Program.
Pathway to Citizenship
The bill proposes a long and arduous «pathway to citizenship» for the estimated 11 million people living in the United States illegally. No undocumented immigrant is eligible to apply for this temporary status until the border security measures are in place. Once the first security triggers are achieved, undocumented immigrants will be able to come forward, pass background checks, be fingerprinted, pay $2,000 in fines, pay taxes, prove gainful employment, and prove they have been in the U.S. since 2011, among other criteria. Those who have a serious criminal history or do not meet the above criteria will be deported.
Undocumented immigrants will not be eligible for federal benefits during this time, including benefits under «Obamacare.» Undocumented immigrants will have to prove they can support themselves and are not dependent on the government by verifying that they earn at least 25 percent above the poverty level and are gainfully employed.
Certain immigrants who were deported will be allowed to return to the United States if their spouse and children are still living in the United States.
The Dream Act
The bill contains a version of the Dream Act, which would allow young undocumented people whose parents brought them to the U.S. illegally or overstayed visas to be eligible for permanent residence in five years and citizenship immediately thereafter if they meet certain criteria.
The bill still has a long road ahead of it, and both conservatives and immigration reform proponents have already begun attacking the bill. However, many would agree that this is the closest the country has come in years to meaningful immigration reform. Let the debates begin!
Contact Barbara Melendez or Kristina Ruedas for more information.
https://www.richardsbrandt.com/wp-content/uploads/2021/08/logo.png
0
0
RBMN
https://www.richardsbrandt.com/wp-content/uploads/2021/08/logo.png
RBMN
2013-05-14 21:36:25
2021-09-09 13:00:53
The «Gang of 8» Senators Release the Border Security, Economic Opportunity and Immigration Modernization Act of 2013