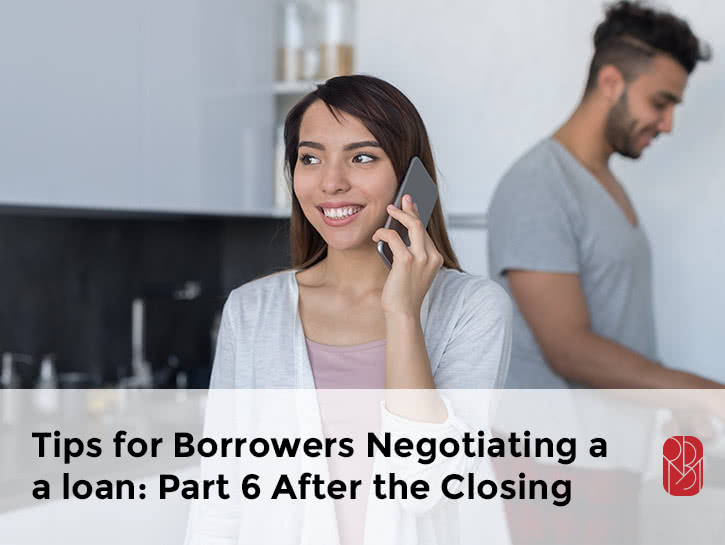 April 2017
It's a great relief for the borrower when the documents are signed and the money is wired. What happens after the loan has closed is critical to a successful loan.
1. Post-closing matters. The lender may have a laundry list of items for the borrower to provide after the closing. It almost goes without saying, but it's in the borrower's interest to complete all post-closing matters as promptly as possible. The borrower will usually be paying for the attorney's fees of the lenders. The longer post-closing items drag on, the higher the attorney's fees will be. Getting the post-closing items done quickly will save the borrower money and get the borrower-lender relationship off to a good start.
2. Prompt financial reporting. Many loan documents require ongoing reporting of financials, usually on a quarterly and annual basis. Borrowers that miss financial reporting deadlines (usually 45 days after each quarter and 60 days after the end of the year) put themselves at risk of getting a default notice from the bank. If the borrower won't be able to get financials to the lender on time, they should give the lender notice before the due date.
3. Keep the lender in the loop. There will be times when a borrower fails to reach a financial covenant set by the bank in the loan documents. Sales may be down, and unforeseen expenses may lower net earnings. In times of financial distress, it's in the borrower's interest to contact the bank early and give them notice. Most borrowers tend to wait until the last minute to report bad news to their lender, but this will only erode trust between them. The borrower should strive to be as open and transparent with the lender as possible. By doing so, the lender will be more flexible and accommodating if the borrower misses a financial covenant or a payment. Lenders will often go the extra mile to assist cooperative borrowers. Without such trust, the Lender may quickly seek to enforce its rights against the borrower when the borrower can least afford it.
4. Keep your lawyer engaged. After the loan is closed, borrowers tend to drop their lawyer off the radar screen until an angry letter arrives from the lender. The better approach is to call your lawyer at the first indication of trouble. A good finance lawyer will be able to help a borrower frame a solution and formulate a proactive plan for dealing with its lender when difficulties arise. Visit https://www.richardsbrandt.com/practice-areas/utah/bank-finance-attorney
https://www.richardsbrandt.com/wp-content/uploads/2017/05/Part6_AfterClosing.jpg
545
725
RBMN
https://www.richardsbrandt.com/wp-content/uploads/2021/08/logo.png
RBMN
2017-05-10 09:00:01
2021-09-09 13:11:37
Tips for Borrowers Negotiating a Loan: Part 6 After the Closing