Tips for Borrowers Negotiating a Loan: Part 5 Closing Documents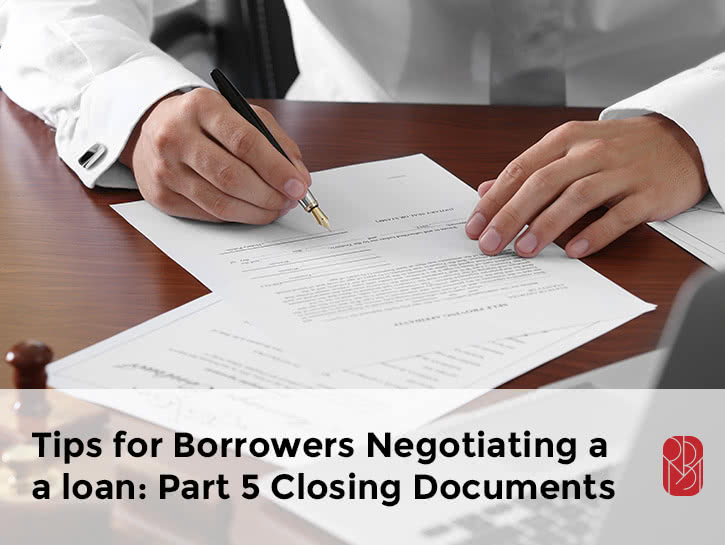 Clint M. Hanni
April 2017
Loan transactions are document intensive. When the agreements have all been drafted and agreed, it's time for the lender and borrower to sign the documents and fund the loan. Closings can be easy or hard. Here are some tips to make them as smooth as possible.
1. Authorizing resolutions. After the main transaction documents are complete, there may remain other documents to be drafted, agreed and signed. For example, the lender wants assurance that the borrower's board of directors has authorized the loan. To that end, the lender may provide its own form of board resolution for the borrower. It can take time to organize a meeting or pass around resolutions for signatures. Borrowers should plan to remain involved and put in extra time even after the documents are finalized.
2. Closing certificates. Most loans in excess of a few million dollars will require officers of the borrower to certify that all representations and warranties are true and that all conditions to the loan have been met. Other certificates may be required with respect to resolutions, articles of incorporation and bylaws of the borrower. In addition, the lender may ask for a solvency certificate to confirm the borrower is solvent. Insurance certificates may be required. Here's the point—a fair amount of work remains to be done after the main loan documents are complete. Finance counsel can walk you through it all.
3. Third party documents. Closings are often delayed because the lender requires third parties, such as landlords, to sign documents (e.g., consents to collateral assignments of agreements or landlord estoppels). An experienced lawyer will help the borrower identify these documents in advance so that they can be distributed to third parties well before the closing. Lenders may be willing to accept such documents on a post-closing basis.
4. Closing mechanics. In the old days, all parties used to gather in a conference room to sign and release deal documents. That rarely happens nowadays. Most closings are done via email with little face-to-face interaction. But loan closings are still complicated. Final versions of the documents need to be gathered and distributed to each side for signatures. Some documents, such as stock certificates to be taken by the lender as collateral, must be delivered to the lender's attorney. The lender may require the borrower's attorney to render a closing opinion that the loan documents are enforceable. Any escrow procedures must be complied with. Often, last minute issues rise up and threaten to derail the deal. It's important that you have counsel that is experienced in running a closing to work around these issues. Visit https://www.richardsbrandt.com/practice-areas/banking-and-finance-law/
Read Tips for Borrowers Negotiating a Loan: Part 6 After the Closing
https://www.richardsbrandt.com/wp-content/uploads/2017/05/Part5_ClosingDocs.jpg
545
725
RBMN
https://www.richardsbrandt.com/wp-content/uploads/2021/08/logo.png
RBMN
2017-05-03 09:00:48
2021-11-03 14:30:02
Tips for Borrowers Negotiating a Loan: Part 5 Closing Documents