Contracting 101 – Choice of Law and Borrowing Statutes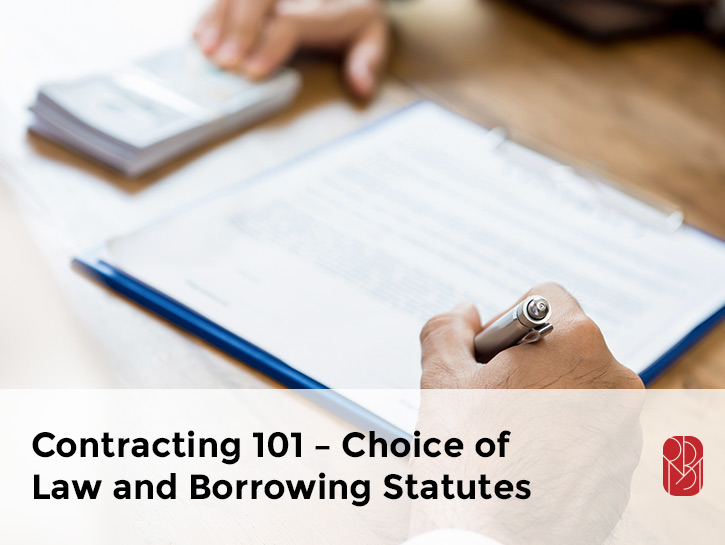 Steven Bergman
November 2017
This is another in a series of posts about negotiating, executing, performing, and enforcing contracts, whether commercial or individual. This installment focuses on choice of law issues and how choice of law can affect your right to pursue a remedy on a contract default or the defenses available to you or your business in the event of a default.
Many contracts today contain provisions establishing where a lawsuit can be filed (or arbitration can be heard if there is a mandatory arbitration provision) and what law applies. For contracts that are silent on choice of law and forum selection, statutes or court rules govern the appropriate forum, and the controlling law is determined based on a complex body of law known as conflicts of law. Which law applies can have a significant effect on the outcome of the case. One area where these provisions or the choice of law analysis can be critical concerns the statute of limitations. A statute of limitations is a law that establishes the maximum amount of time a party can wait before it pursues a potential claim. Depending on the type of claim, there are different statutes of limitation. To illustrate this point, a few examples follow.
In Utah, the statute of limitations for written contracts is typically six years. For oral, or unwritten, contracts, the statute of limitations is four years. By contrast, in other states, the statute of limitations varies from three to fifteen years on written contracts and from two years and up on oral contracts. These differences can come into play, even on a contract with a Utah forum and choice of law clause or even where a Court determines under choice of law principles that Utah law applies. This is because Utah, like most states, has a borrowing statute for the application of the statute of limitations where another state's law may be implicated. Put another way, a Utah court will adopt the other state's law as Utah law for purposes of the dispute in certain circumstances, such as when performance under the contract occurred in that other state. This can result in a shortening of the statute of limitations, which if you are a defendant is a potential defense, and if you are a plaintiff, a potential bar to recovery.
Utah's borrowing statute is codified at Utah Code Ann. Section 78B-2-103 and states: "A cause of action which arises in another jurisdiction, and which is not actionable in the other jurisdiction by reason of the lapse of time, may not be pursued in this state, unless the cause of action is held by a citizen of this state who has held the cause of action from the time it accrued." The first part of this statute means that if the statute of limitations on a claim has expired in another state, that claim generally cannot be pursued in Utah, even if the statute of limitations in Utah has not expired. For example, if a Utah company enters into a contract with a company from California, and the contract provides for payments to be made in California, California's shorter statute of limitations periods may apply, even if the contract calls for litigation in a Utah court and application of Utah law. For Utah defendants in contract actions, this is a potentially dispositive defense, meaning it will terminate the action. The exception is if the plaintiff is a Utah citizen and has held the claim from the time of inception, then the borrowing statute does not apply.
https://www.richardsbrandt.com/wp-content/uploads/2017/11/Contracting101-LawAndBorrowing.jpg
545
725
RBMN
https://www.richardsbrandt.com/wp-content/uploads/2021/08/logo.png
RBMN
2017-11-16 09:14:00
2021-11-03 14:34:08
Contracting 101 – Choice of Law and Borrowing Statutes