UCC Article 9: What You Need to Know, Part 2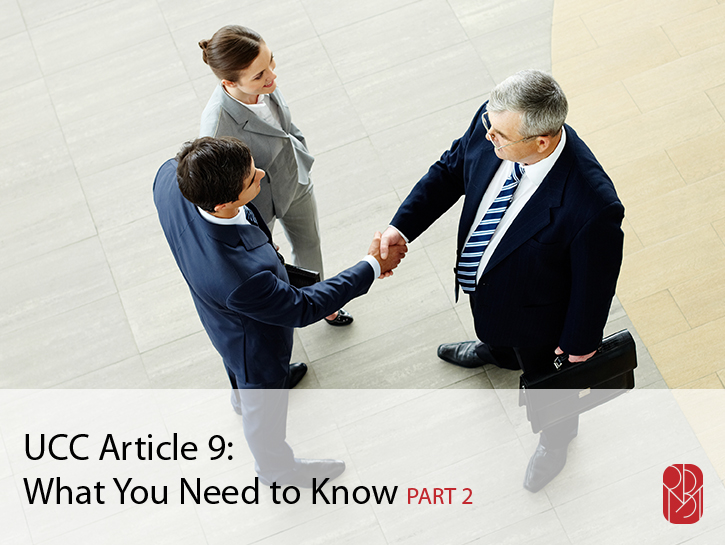 March 2018
What is a security interest?
At the heart of UCC Article 9 is the concept of a "security interest." The UCC itself defines a security interest as "an interest in personal property or fixtures which secures payment or performance of an obligation." The definition goes on for another eight lines, but the gist of it is that a lender receives security for its loan by getting an interest in the debtor's collateral. In other words, a security interest is a type of lien that allows a lender to take collateral from a debtor that defaults on an obligation. Under UCC Article 9, a security interest only attaches to personal property collateral. Personal property essentially includes everything but land and buildings (the latter are called real property).
When it comes to security interests, two important concepts come into play. First, in order to be of any effect, a security interest must be created and attach to personal property. Second, in order to be enforceable against a debtor, a security interest must be properly perfected.
In order for a security interest to be created and attach to collateral, there are three basic requirements. The debtor (the one owing the obligation) must sign a security agreement, which will be discussed in more detail in future blog segments. The secured party (the one receiving the obligation) must give value to the debtor, for example, in the form of a loan. Lastly, the debtor must have rights in the collateral, which generally means that the debtor owns or is leasing the collateral.
Even though a security interest has attached to collateral, it is of little value until it has been perfected, or in other words, can be legally enforced, a matter of great importance for lenders. The way to perfect a security interest depends on the type of collateral. For most types of collateral, perfection of a security interest is generally done by filing a UCC financing statement with the central filing authority in the state, which is often the secretary of state. In Utah, the place to file is the Division of Corporations and Commercial Code. For certain types of collateral, the only way to perfect a security interest is for the lender to take control or take possession. In other cases, the lender can perfect its security interest in any one of several ways, but with possibly differing priorities. It is possible, for example, for two lenders to perfect a security interest in the same collateral, but with different resulting priorities. If you are a lender wanting to perfect a first priority security interest in collateral, it is essential to consult a lawyer with expertise in UCC Article 9 so that you perfect the security interest in the proper manner and comply with other legal requirements for a legally enforceable interest.
Clint M. Hanni is Of Counsel to Richards Brandt Miller Nelson. He is a member of the Business Transactions & Corporate Governance, Banking and Finance Law, Business Bankruptcy and Creditor Rights, and Real Estate Transactions & Litigation practice groups.
https://www.richardsbrandt.com/wp-content/uploads/2018/03/UCC-Article-9-copy-copy.jpg
545
725
RBMN
https://www.richardsbrandt.com/wp-content/uploads/2021/08/logo.png
RBMN
2018-03-14 09:23:29
2021-09-09 13:29:46
UCC Article 9: What You Need to Know, Part 2