Deferred Action for Childhood Arrivals – Where are we now?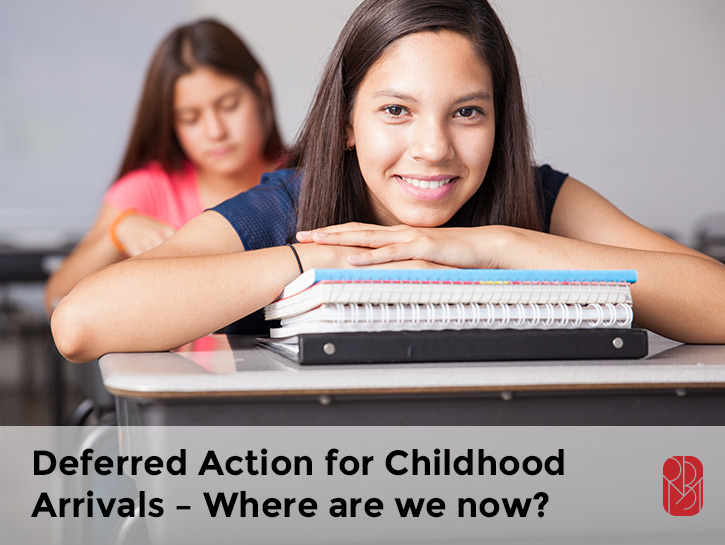 Kendall Moriarty
February 2018
Limbo. On June 15, 2012, President Obama unveiled a program called Deferred Action for Childhood Arrivals (or "DACA") which would provide employment authorization and protection from deportation for individuals who entered the United States as children and who had never committed a deportable crime. The program began accepting applications on August 15, 2012. Since then, U.S. Citizenship and Immigration Services (or "USCIS," the branch of the Department of Homeland Security that processes DACA applications and renewals) has accepted over 1.5 million applications requesting relief[1] (at $495[2] a pop, that's more than $742,500,000 in revenue for the federal government[3]). Of those 1.5 million, more than 1.2 million have been approved.[4]
On September 5, 2017, President Trump issued a new Executive Order effectively beginning a "phasing out" DACA by giving only certain individuals the right to renew within one month's time. Everyone else could maintain their status until its expiration, but would then lose their protection. However, on January 10, 2018, the District Court for the Northern District of California issued a preliminary injunction pausing President Trump's order. While this pause does not revive the program entirely, it provides a window of relief for the thousands of individuals who had already been issued DACA and who needed to renew it but missed the deadline or did not qualify based on President Trump's October 5, 2017 requirement.
In response to the court's decision, on January 13, 2018, USCIS issued a policy update[5] stating that the agency would again accept DACA renewal applications. This included applications for those who had let their DACA status expire more than a year before President Trump's September 5, 2017 announcement. However, those who have never been issued DACA cannot newly apply.
Still, the court order allowing eligible individuals to renew their DACA status provides important physical and emotional security for thousands of individuals. Employers who have hired and trained DACA recipients as part of their workforce now also enjoy an added measure of stability.
What does this mean for you?
If you currently have DACA, you may be eligible to renew your work authorization and DACA status. If you have any questions on whether you qualify or how or when you should renew, please call us.
If you are an employer who has hired DACA workers and want to know how these changes affect you and your business, please call us.
If you have never had DACA but want to know if you have other options for seeking and obtaining status in the United States, information is power; please call us.
Author: Kendall J. Moriarty, immigration and general litigation attorney at Richards Brandt Miller Nelson.
[1]https://www.uscis.gov/sites/default/files/USCIS/Resources/Reports%20and%20Studies/Immigration%20Forms%20Data/All%20Form%20Types/DACA/daca_performancedata_fy2016_qtr3.pdf.
[2] https://www.uscis.gov/i-821d.
[3] The Institute on Taxation and Economic Policy found that DACA-eligible individuals and DACA recipients "contribute an estimated $2 billion a year in state and local taxes." https://itep.org/state-local-tax-contributions-of-young-undocumented-immigrants/.
[4] Id.
[5] https://www.uscis.gov/humanitarian/deferred-action-childhood-arrivals-response-january-2018-preliminary-injunction.
https://www.richardsbrandt.com/wp-content/uploads/2018/02/DACA.jpg
545
725
RBMN
https://www.richardsbrandt.com/wp-content/uploads/2021/08/logo.png
RBMN
2018-02-08 14:00:50
2021-11-03 15:16:54
Deferred Action for Childhood Arrivals – Where are we now?