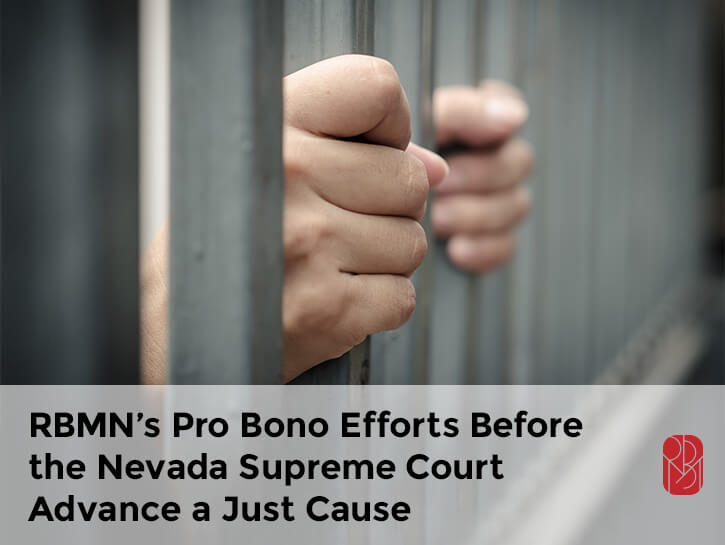 January 2016
On Christmas Eve 2015, the Nevada Supreme Court reversed the judgment of the Nevada Eighth District Court and ruled that RBMN's pro bono client DeMarlo Berry is entitled to an evidentiary hearing to establish his actual innocence. Mr. Berry has been incarcerated since 1994 for a murder conviction based on shaky eyewitness and jailhouse snitch testimony. From the outset, Mr. Berry has maintained his innocence. RBMN became involved in DeMarlo Berry's case when the firm hired Samantha Wilcox, who as a law student volunteered for the Rocky Mountain Innocence Project, gathered the affidavits, and evidence demonstrating Mr. Berry's innocence.
On May 2, 2014, RBMN filed a post-conviction petition for a writ of habeas corpus on behalf of Mr. Berry, alleging that newly discovered evidence – including a written confession from the actual perpetrator – establishes Mr. Berry's actual innocence. The district court in Las Vegas dismissed Mr. Berry's petition without an evidentiary hearing, concluding that the confession and other newly discovered evidence of innocence were not credible. RBMN's team of attorneys filed an appeal to the Nevada Supreme Court on Mr. Berry's behalf, seeking an appellate reversal of the district court's decision. A three-member panel of the Nevada Supreme Court heard oral argument on November 13.
In its opinion, the Nevada Supreme Court agreed with RBMN that the trial court had erred in dismissing Mr. Berry's petition, holding that "this new evidence, if true, shows that it is more likely than not that no reasonable jury would convict Berry beyond a reasonable doubt. As such, the district court abused its discretion by denying Berry an evidentiary hearing, and we remand for an evidentiary hearing on whether Berry is actually innocent." At that time, the "district court should examine the evidence that led to the original conviction and especially whether the new evidence diminishes the strength of the evidence presented at trial."
RBMN's team of attorneys includes Samantha Wilcox, Craig Coburn, Lynn Davies, Steve Bergman, and Joel Kittrell. RBMN has also worked extensively with the Rocky Mountain Innocence Center, particularly Jensie Anderson and Jennifer Springer, and with Nevada counsel John T. Wendland of Weil & Drage, in their pursuit of justice for Mr. Berry.
https://www.richardsbrandt.com/wp-content/uploads/2016/04/ProBonoJustCause.jpg
545
725
RBMN
https://www.richardsbrandt.com/wp-content/uploads/2021/08/logo.png
RBMN
2016-02-08 08:46:57
2021-11-02 15:47:59
RBMN's Pro Bono Efforts Before the Nevada Supreme Court Advance a Just Cause