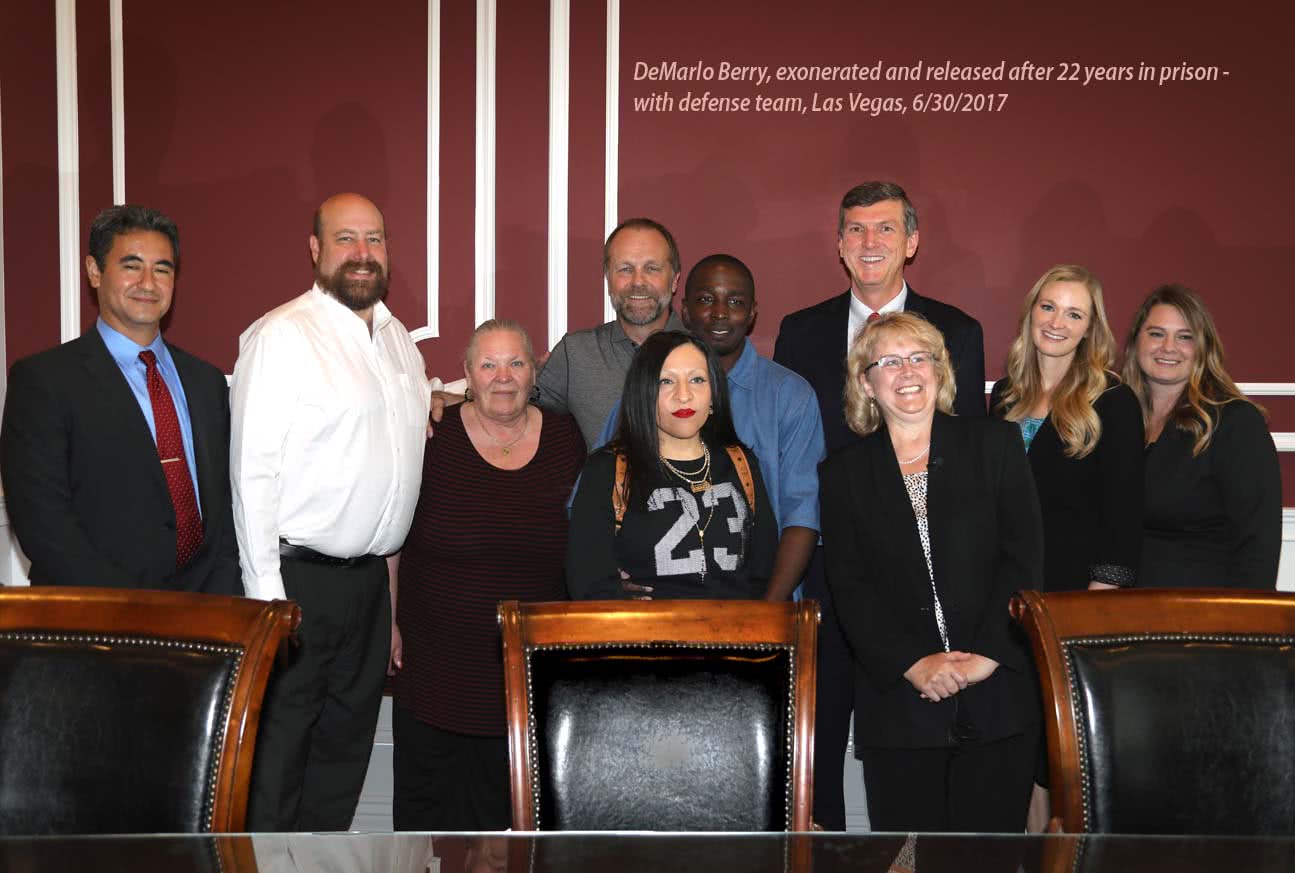 July 5, 2017, Salt Lake City, Utah
Innocent and Wrongly Convicted Man Freed After 22 Years in Prison As a Result of the Pro Bono Legal Work of RICHARDS BRANDT MILLER NELSON, WEIL & DRAGE, and the Rocky Mountain Innocence Center
Independence Day for an Innocent Man
The Salt Lake law firm of RICHARDS BRANDT MILLER NELSON is delighted to announce the exoneration and release from prison of its client, an innocent man who had served 22 years in a Nevada prison for a crime he did not commit. DeMarlo Berry, 42, was convicted of murder in 1995 and has been in prison since he was 19 years old. Last Wednesday, June 28, a Las Vegas judge signed an order exonerating him and directing his release from prison. On Friday, fittingly just a few days before Independence Day 2017, DeMarlo walked into Las Vegas a free man.
DeMarlo Berry was arrested in Las Vegas, Nevada in 1994 and charged with the murder of Charles Burkes, a manager of a Las Vegas Carl's Jr. restaurant. Prior to, at, and after the 1995 trial, DeMarlo maintained he was innocent and identified the man who eventually confessed to having committed the crime. Despite that, and based on questionable eyewitness testimony, dubious prosecutorial tactics, an incentivized jailhouse informant, and an unfortunate recommendation from defense counsel to accept a less than unanimous verdict from a deadlocked jury, DeMarlo was convicted and sentenced to life in prison. DeMarlo appealed, and when his appeals were exhausted, sought post-conviction relief to no avail for over two decades.
In 2012, DeMarlo contacted the Rocky Mountain Innocence Center ("RMIC"), which agreed to look into his case. Working with RMIC at the time was then law student Samantha Wilcox. In 2013, Ms. Wilcox and Liz Fasse of RMIC met with Steven Jackson, the person whom DeMarlo had identified as the perpetrator. Mr. Jackson confessed to the crime and signed an affidavit taking responsibility for the crime. RMIC later obtained affidavits from a witness who heard Mr. Jackson admit to killing Mr. Burkes in 1994, as well as from the incentivized informant admitting that he had perjured himself at DeMarlo's trial in exchange for leniency on crimes of which he was accused and other benefits from the prosecution.
In the spring of 2014, RMIC asked RICHARDS BRANDT MILLER NELSON to take on DeMarlo's case on a pro bono basis. RICHARDS BRANDT agreed, and, along with WEIL & DRAGE's Las Vegas, Nevada office, filed a Habeas Petition on behalf of DeMarlo in May 2014 based on the newly discovered evidence. The Clark County District Attorney's Office moved to dismiss DeMarlo's Petition. The District Court, without providing DeMarlo a hearing on his actual innocence claim, granted the motion. RICHARDS BRANDT and WEIL & DRAGE filed an appeal to the Nevada Supreme Court, and on Christmas Eve 2015, the Nevada Supreme Court agreed that DeMarlo was entitled to a hearing on the newly discovered evidence. While continuing to oppose DeMarlo's Petition after remand from the Nevada Supreme Court, in the fall of 2016 the Clark County District Attorney's Office formed a Conviction Review Unit ("CRU") to review cases where there was evidence of a wrongful conviction. RICHARDS BRANDT asked the CRU to review DeMarlo's case as its very first case. The CRU agreed to review it provided that all agreed to a stay of all other proceedings pending that review. With information provided by RICHARDS BRANDT and WEIL & DRAGE, the CRU looked into DeMarlo's case in the first half of 2017. After completing that review, the CRU ultimately recommended that DeMarlo be released and the charges against him be dismissed. On June 30, 2017, after more than 22 years behind bars for a crime he did not commit, DeMarlo celebrated Independence Day a little early (or, as DeMarlo called it, his new birthday). He was exonerated and released, an innocent man.
At a press conference on Friday morning, DeMarlo described the experience as "surreal." DeMarlo said that he would not have been there, and Justice would not have prevailed in his case, without the tireless efforts of RMIC, RICHARDS BRANDT, and WEIL & DRAGE. The dedicated team of attorneys who believed in DeMarlo's innocence and fought for him for over three years was comprised of Lynn Davies, Craig Coburn, Steven Bergman, Joel Kittrell, Jack Reed, and Samantha Wilcox at RICHARDS BRANDT (Salt Lake), as well as John Wendland at WEIL & DRAGE (Las Vegas), and Jensie Anderson and Jennifer Springer at RMIC.
RICHARDS BRANDT MILLER NELSON is a full service law firm located in Salt Lake City, Utah. RICHARDS BRANDT, or RBMN, is dedicated to providing advice and expertise at the highest levels. The firm has achieved exceptional results throughout the years, based on the foundation of a unified team of lawyers focused on solving its clients' most important problems. The firm provides specialized legal counsel across focused practice areas, helping businesses and individuals through some of their toughest times.
WEIL & DRAGE is a law firm that specializes in a wide range of complex construction and business-related matters in California, Nevada, and Arizona. The firm was founded on the principle of "Excellence from the Beginning."
The Rocky Mountain Innocence Center provides innocence investigation and litigation services – for free – in the states of Utah, Nevada and Wyoming. RMIC does this through a unique program that combines the efforts of trained and supervised law students from local law schools, as well as local volunteer attorneys. The students earn academic credit by conducting the investigations in RMIC's cases to uncover the evidence that will prove innocence. The local attorneys get the opportunity to provide pro bono litigation services for the innocent person – which can be the most rewarding experience of one's legal career.
RICHARDS BRANDT
https://richardsbrandt.com/
801.531.2000
WEIL & DRAGE
https://www.wdlaw.com/
702.314.1905
Rocky Mountain
Innocence Center
https://rminnocence.org/
801.355.1888
https://www.richardsbrandt.com/wp-content/uploads/2017/07/Group-at-Press-Conference-12x18_txt-copy_v2.jpg
873
1295
RBMN
https://www.richardsbrandt.com/wp-content/uploads/2021/08/logo.png
RBMN
2017-07-06 15:56:04
2021-11-02 15:51:12
Independence Day for an Innocent Man